Appointment Information
Hawkes School Portraits
1003 Gravenstein Hwy North, Sebastopol, CA 95472
707-823-6537 | hawkesphoto@yahoo.com

Hawkes School Portraits is excited to be a part of your senior portrait experience. We will provide your school with your official senior portrait to appear in the yearbook. We recommend you look at your appointment time that was schedule by us. If you need to reschedule call 707-823-6537 as soon as possible. Our staff of professional photographers will help create lasting memories of this special life achievement. We look forward to seeing you at your scheduled appointment.

Special Information
- Please wear a face covering.
- DO NOT COME TO YOUR APPOINTMENT IF YOU HAVE NOT BEEN FEELING WELL. PLEASE RESCHEDULE.
---
Watch Our Video About Covid-19
---
Things to know
- Hawkes School Portraits will provide you with your schools yearbook attire. (Tuxedo and black drape.)
- If you need any special accommodations please contact our studio before your appointment.
Tips for guys
- Because of Covid-19 this year we are giving an option to bring your own tuxedo or use one we provide.
- Bring a T-shirt or a long sleeve white button-up collared shirt to wear under your tuxedo.
Tips for girls
Bring a tube top or thin strapped tank top to wear under your yearbook outfit.
---
Petaluma High School Senior Picture Dates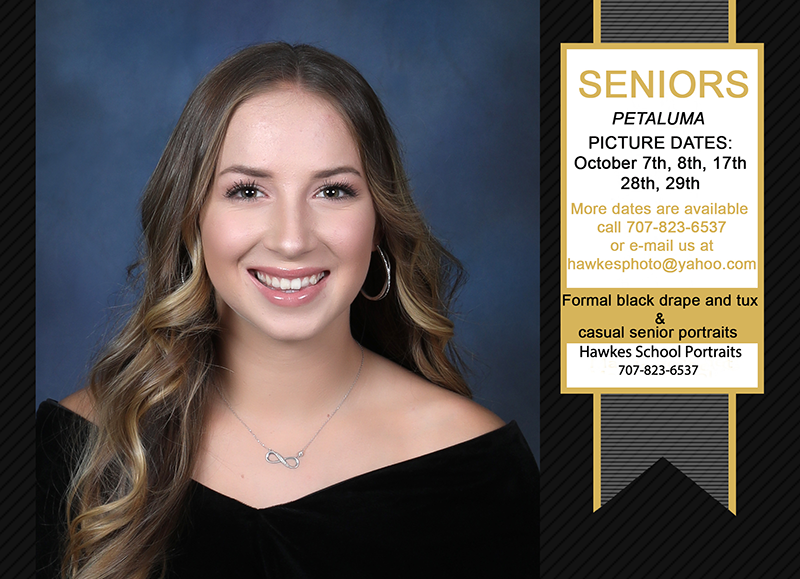 ---

Easy Ways To Order:
(1) Call our friendly customer service team at 707-823-6537 and they will help you place your order over the phone.
(2) Order Online. Login information was provided to you via email one week after your picture day.
(3) Or you can email hawkesschools@yahoo.com to place your order.